Dating Someone with Kids – How to Do It Successfully
You've probably fallen in love with someone, then you realize sooner that he or she already has kids from a previous relationship. You don't have to despair, although it's a challenging situation. The good news is, you can date someone with kids successfully. Keep reading to learn how.
First, you should bear in mind that the kid (s) would always come first in the dating relationship. Once you put this in mind and learn how to manage the situation, you will be smiling all the way with the special someone in your your new relationship.
Connect with millions of men and women, from the comfort of your home totally free TODAY!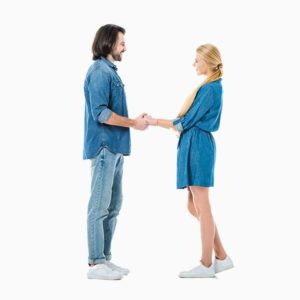 Starting Off
When it comes to dating someone with kids, it's necessary to start off right. How do you do that? First, you need to consider some realities. One of such realities is to ask yourself if you're willing to commit to such a dating relationship. In essence, you have to consider the kid or kids in the picture.
The truth is, it can be quite challenging and demanding dating a man or a woman with kids. So, do some honest soul-searching and considerations before committing to the relationship. Life is sometimes too short to expect a person to get involved in a relationship with a ready made family,parents and issues.
Now, here are some points to help you in your consideration;
A parent will always put the kids first, especially if the kids are young. For instance,you can expect plans and dates to be altered last minute if there's a need in the kid's life that must be met urgently. So, you would have to put up with such urgencies, so as not to appear inconsiderate towards the kid.
Also, if a potential partner or person has a kid or kids, bear in mind that his or her ex may still be in the picture because of the kids. The previous partner may have to call frequently to check on the kids and speak with the ex for an extended time regarding the welfare of the kid its just part of a parents job be it a mom or dad. Can you take this situation without tension as to whether it is just the children's welfare they are talking about or there may be underlying romantic affair still going on between the two?
Additionally, when considering dating someone with kids, don't forget that things may be slower, especially at the onset, since people with kids tend to proceed in a new relationship with caution. So, are you willing to give room and time (sometimes months or years) to the single parent until full adjustment is made?
In fact, you should find out from your partner what the set boundaries are in regards to the kids. It is important you do this before committing to the relationship. For a single parent, initiating such conversation can be quite difficult. So, do the person the favor of asking upfront in a polite manner, the expectations and boundaries in regards to her kids or his kids.
Here are some helpful points in this case:-
The boundaries and expectations in relationships need not feel or be complex. For instance, you should find out the amount of time that is ideal for your single parent partner to devote to the kids. Here's an example; your other half may indicate that going out on date has to be minimal, so that he or she can devote more time to the kids. You should manage such boundaries well and show reasonable understanding in the relationship before getting to involved.
 Also, when it comes to meeting the kids, your partner may also not be direct with it. This is in terms of when and how. Try not to push things, but show understanding that you are willing to wait until when he or she is ready to introduce the kids to you.
Have an Optimistic Outlook
When you decide to date a single person or parent or someone with a child, it is important to be positive and optimistic in your outlook. In essence, you should not consider the relationship as an extra luggage or burden, which is why you should be sure you want to go into such relationship from the onset. Focus on the positive attributes of your partner and the relationship, which will help you maintain a positive outlook on life and feel like a good role model.
While there would be challenges such as not being able to have as much private times together, focusing on the positives will help you value the moments you have to be together. It will also help you to respect and cherish your partner and, you will constantly be on the lookout for ways to maximize the times  you have to be together.
Also, start thinking of kids-friendly activities that you can introduce when eventually you have to go out together – your single parent partner and the child or children. Typical examples include trips to amusement parks and fairs, including kids-friendly indoor games. Going the extra-mile to make your single parent partner and the kids happy will help make the relationship a thing to enjoy rather than something to endure and make you look like a nice person to be involved with someone who has feelings and respect.
Do you seek to meet your significant other?
Be Supportive and Kind
Make up your mind from the onset to be more than just a pretty face. You should also be a supportive and kind role model helping with parenting and communication questions to avoid any reason for bad feelings especially when dating someone with kids. Even if you haven't been around kids before, or know how to handle them as an adult you can ask your friends or people you know questions especially those who have kids for honest advice, and also find some useful tips online be it for a mum or dad figure.
It's also important that you wear your best behavior when you are with your partner's kids. Practice good manners be a role model that make's children happy. Give a listening ear to the kids and correct them in love, as though they are your own children.
The child or children would also learn good manners from you when you exhibit such manners to them or their parent.
When the ball is set and things are now moving as expected, you should consider taking the relationship with the single parent to another level. Find out how your partner will react to this and handle the situation wisely.
Different Ways People are Meeting their Partners
Do you seek to meet your significant other? It will excite you to know there are different ways people are meeting their partners or perfect someone nowadays. The top advice on ways include dating online, at work, through family and friends (referral), at events (e.g. wedding, sports, and religious gatherings,parents evenings), with dating apps, and at school. So get thinking and involved with a lot of social activities in the future and it will become easy to share and follow your dreams and maybe one day find marriage.
Stay Safe When Dating Online
Finally, endeavor to stay safe when seeking to date or have a relationship with a person with kids or anyone with a child. Don't be quick to give out your contacts or reveal sensitive things about yourself. And, when you arrange to meet, let it be in a public place at a convenient time of day stay safe when dating.
Now's the time to act, don't just dream about find true love. Do Something about it Start you journey today.