More and more people are resorting to online dating because of the increasing success rate and success stories. Besides, it's quite handy, easier and more vibrant. However, the entire process can be overwhelming that you want to just quit. Keep reading to find successful tips for online dating in San Francisco.
Start by Carrying out Self Evaluation
Get realistic and evaluate your needs before opting to date online. So, know yourself, your personality, and what you're looking for in a prospect. You should be realistic and avoid focusing on just physical attraction. Remember that you can't really judge a book by its cover — this applies so well with just focusing on the looks of prospects rather than the tangible virtues that will promote loving and lasting love relationship.
Make a Good Presentation of Yourself
Also, when dating in San Francisco via the internet, you should make a good presentation of yourself. How? From your profile photos to your profile description, make sure you choose the right contents. For photos, don't use images that mask your true looks such as the one where you're putting on sunglasses or wearing hood clothing.
You definitely don't want a prospect to feel deceived when you finally meet in person. So, input information that truly portray who you are in terms of your personality and personal interests, as well as the photos you put up. However, be smart not to include sensitive personal information such as your contact number, residential/work address, and so on.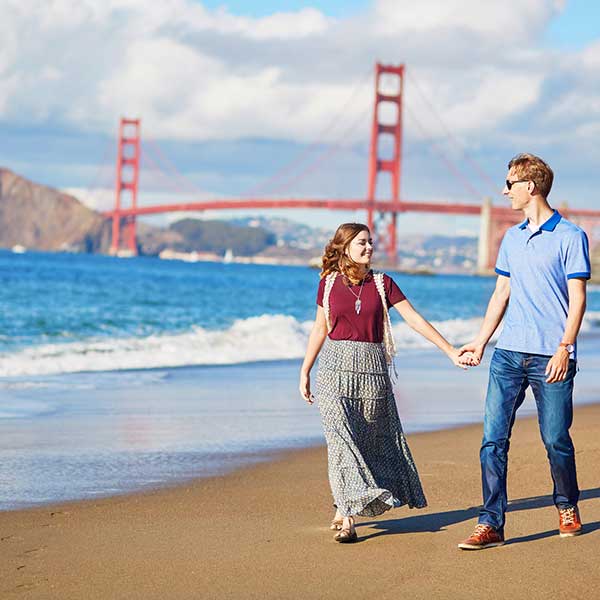 Don't Sound and Act Desperate When Dating
Desperation is the key to falling a victim when dating online and even offline. It's easy to tell when someone is desperate — the person will be all out both verbally and action-wise to get a date. Desperation will also make you sound and look cheap, which will definitely repel reasonable love finders and attract scammers.
So, carry yourself in a respectable manner while engaging in online San Francisco dating. Don't pose nude and use nude pictures on your profile, and avoid using desperation-oriented terms when chatting with a prospect. Typical examples of such terms include;
You look sexy
Just setting my eyes on you turns me on!
I just fell in love with you at first sight
If I don't have you, I will die!
I can't wait to be in your arms!…and so on
Focus on Information that would Attract Your Ideal Prospect
The need to focus on writing a profile that your ideal prospect would respond to cannot be overemphasized. So, if you are type the who love socializing a lot, make it clear when you write your profile. In similar manner, if you are someone who loves dangerous adventures such as sky-diving and would love a partner who is also prone to such hobbies, you should write it on your profile.
So, instead of spending time making a general description of yourself, focus on descriptions that would attract a like-minded person. This is one of the fastest ways to find the right date online and eventually build a loving and lasting relationship with the person. Like-minded people are easily attracted to each other.
Don't Rely Much on Automated Matchmaking
When you date in San Francisco online, do not rely heavily on automated matchmaking via dating apps and dating websites. While these services are good at finding pieces of information that would match two people's profiles and accomplish a match as a result, it is not a guarantee that the prospect is an ideal match for you.
Therefore, you should do your own homework about the potential matches that the computer presents to you. If your further findings reveal something contrary to what the person portrayed himself or herself to be, don't even think twice in walking away from the match or relationship.
Don't be Too Hasty
You joined an online dating service today and you expect to find a date within 24 hours. While this is possible, it is not realistic enough. You should be patient and give time for potential matches to explore and read about you. It's possible that your best match hasn't even joined the dating service yet. If you are too hasty and quit too soon, you may end up losing your true soul-mate who is still considering joining the service long before you left.
One of the great ways to avoid being hasty is to engage yourself with other meaningful activities while trying to find a date online. In essence, don't always be on the dating platform searching in desperation. Just ensure you advertise yourself well, put up the right information that will attract an ideal partner, then allow time to sort things out while you spend more time on other meaningful things.
Don't Bend Your Rules
If you have already determined how you will carry on an online dating San Francisco, try not to bend the rules. This is particularly true about positive rules such as keeping things cordial and platonic.
For instance, if you're looking for a meaningful and serious relationship that would culminate into marriage, and you have decided there won't be sex or disclosure of sensitive information until you are sure about where you two are headed, do your best to stay true to those rules. It will help you recover faster from emotional breakdown if things did not eventually turn out well between the two of you.
Spread Your Tentacles
It's the same thing as saying don't put your eggs in a single basket. You should also look for an ideal date off the internet. When you go for parties, sit at a coffee shop, shop in the supermarket or be in a religious gathering, be open-minded and sensitive about meeting a potential date. Look presentable and approachable at all times — you may not know where you would find your true match or love.
Finally, do your best to stay safe when you embark on dating in San Francisco via the internet. Don't delay to quit when you see red flags.